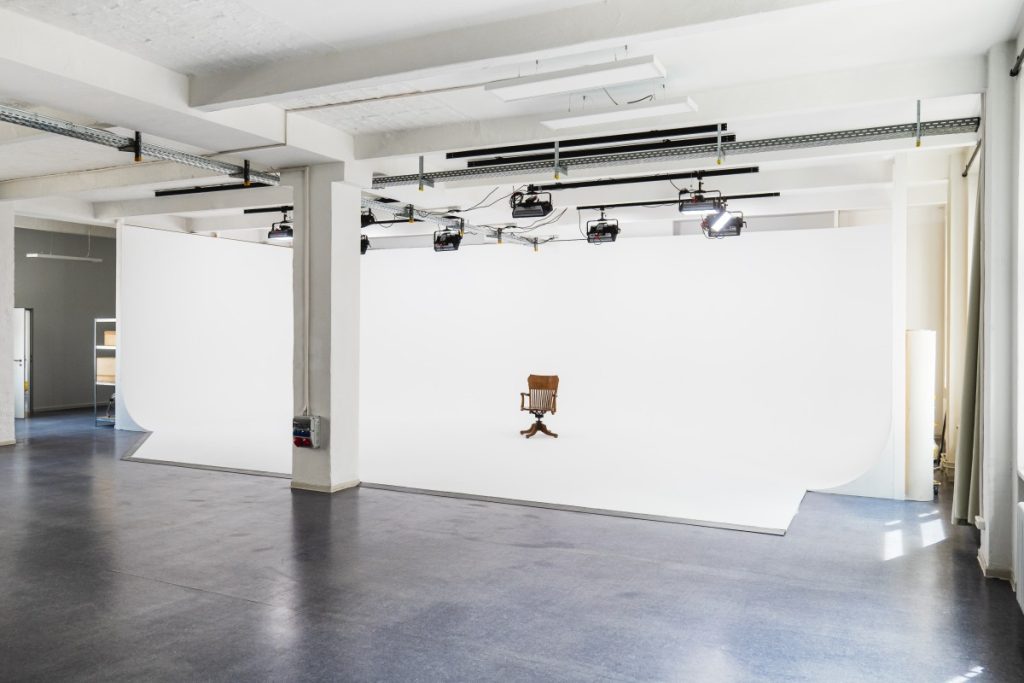 Located in the heart of Berlin

Production services and equipment
We have two freight elevators
We have parking spaces
Once a former shoe factory, today a daylight film and photo studio in central Berlin. This modern venue still breathes the charm of one of Kreuzberg's old industrial complexes. 266 m2 in size, the spacious studio hosts an 80 m2 infinity cove. Equipped with state-of-the-art Apurture Novas LED panels it will make your next production shine (in any color you choose).
Our styling and makeup room have two mirrored working spaces and a changing room. Two freight elevators and private parking spaces ensure loading and unloading are fast and efficient. A basic package of grip equipment is included – we also offer camera and lighting equipment through our network of rental partners.
Need production support? Our experienced team of producers is here to give a hand with anything from budgeting and finding the right crew, to catering and set building. Please do not hesitate to reach out to us – we are happy to help!
Studio
Spacious studio with 266 m2 area
Daylight & blackout studio
7 x 12 m cyclorama with two rounded corners
3.50 m ceiling height
2 x 32A red sockets high current
4 x 16A blue sockets
Highspeed Internet / WiFi
Bluetooth sound system

Espresso coffee machine
Coffee, Teas, lactose-free milk, Oatmilk
Cold drinks
Fully equipped kitchen with induction stove
Tableware & cutlery for 20 ppl.

Lounge area
Separate make-up and styling room
2 Makeup mirrors with Hollywood lights
Steamer & ironing station
Clothes racks with 40 hangers & 20 clip-hangers
Two separate toilets

Two dedicated parking spaces
Barrier-free studio access
Two freight elevators (Medium 2.00 x 1.45 x 1.20 m / Large 2.45 x 2.30 x 2.90 m)
Alarmed and video monitored
Equipment included
LIGHTING
10 x Apurture Nova P300C RGBWW LED panels controlled via iPad
8 x ceiling rail system for lighting (each load 300 kg)
1 x Velvet 1 IP54 BiColor LED Leuchte 75 W
1 x Velvet Light 2 IP54 BiColor LED Leuchte 100 W
STANDS
3 x Avenger C-Stand 33 black
3 x grip arm extension 40″
3 x C-Stand 25 black with sliding feet
3 x C-Stand 18 Black
9 x grip head 2 1/2" Black D200B
FLAGS & FLOPPIES
1 x floppy cutter 120 x 120cm / 48" x 48"
1 x floppy cutter 60 x 182cm / 24" x 72"
1 x solid black flag 30 x 45cm / 12" x 18"
1 x solid black flag 45 x 60cm / 18" x 24"
1 x solid black flag 60 x 91cm / 24" x 36"
1 x solid black flag 60 x 76cm / 24" x 30"
6 x Polyboards B&W with stands
6 x Avenger F1504 Foamcore Fork 16mm Pin
MISCELLANEOUS
1 x Apple Boxes full Set
3x Sandbag 11Kg
4x Sandbag 7Kg
1 x fan
1 x trolley
1 x scaffolding on wheels 2,90m
1x ladder
CABLING
5 x solid rubber 3-way clutch 16A 10m
Cabel reel 40m
______________________________________________
Extra equipment / on request
1 x Camera RED DSMC2 Brain Gemini 5k S35
200€ / day
incl.
1 x DSMC2 V-Lock I/O Expander
1 x Side Handle
1 x RED Motion Ti Canon Mount EF Anschluss mit Graufilter (Mount, Mount Body Cap, RED Canon Lens Cap)
1 x RED DSMC TI PL Mount Titanium
1 x KipperTie Revolva EF-Bundle (EF-Mount, ND Filterparone 0/0.3/0.6/0.9, ND Filterpatrone 1.2/1.5/1.8/2.1,)
1 x RED DSMC2 RED Touch 4,7″ LCD Touch Monitor + Microfiber Bag
4 x RED Mini-Mag 480 GB
1 x DSMC2 V-Lock I/O Expander1 x RED Station USB 3 + USB-C Cable + USB-A Cabel
1 x RED Sidewinder Multifunctionstool
1 x Wooden Camera RED Male Female POGO LC/EVF 12″ Cable
2 x RED 3BNC-to-00 Sync Cable
1 x Bebob VS2 75W
1 x Bebob V98micro 98Wh
3 x Bebob V150micro 147Wh
2 x ULCS AD-1420-2 Universal 1/4″ Stud Universal
1 x ULCS AC-CSF Double Clamp New Style
1 x Wooden Camera Pass Through Top Plate
1 x Tilta BS-T01 15mm
1 x Bright Tangerine Left Field 19mm Bridge Plat
For further details and information at a glance, please refer to our downloads.
Rent a film & photo studio
Would you like to shoot a music, image, social media video or your own film? In front of an appropriate backdrop and with professional equipment? Then your location search has come to an end here and now! Because the solution is very simple: simply rent a film studio. Renting a film studio in Berlin means film and video production at the highest level. In our Neon Island film studio in Berlin-Kreuzberg you can expect the best conditions to perfectly implement your film or photo project. You will not only rent a film & photo studio, but you will also have private parking spaces, freight elevators, and a styling and make-up room that leaves nothing to be desired. Renting our film & photo studio in Berlin means fewer worries about the setting and having your back free for the really important things: the design of your shooting.
Rent a video studio
Professional recording, lighting and sound technology as well as the right location are essential to produce videos that inspire. Regardless of whether you want to produce your first video or already produce regularly, renting a video studio makes the entire video production easier for you. Renting our video studio in Berlin means working with the best technical equipment.
Film studio
We at Neon Island are at home in the world of video and film production. Our Berlin film studio is therefore like a second living room for us, which is why we paid attention to all the important details when it came to the equipment and design. Our ​​266sqm studio hosts the most diverse film productions. Equipped with state-of-the-art LED Apurture Novas panels, our Berlin film studio lets your production shine in any desired color & filters. Our technical equipment also makes it possible to professionally implement even the most complex film projects in our Berlin film studio. With our connected post-production office, we give your film production the finishing touches. We are happy to make our know-how and experience available to you and advise you individually on your film project!
Video studio
From a 6-second short clip to an elaborately produced advertising video for TV. Thanks to our "state of the art" technology and the associated post-production, we can realize a wide variety of projects in-house in our Berlin video studio. Even after the production in our Berlin video studio, we continue to support our customers. Through our broad network and our many years of experience in video production, we support you so that your video reaches the right audience from our video studio.
Photo studio
Our spacious photo studio offers the best conditions for your next shoot. High ceilings and large windows ensure the perfect flood of light in our photo studio (however, it can also be completely darkened) a fully equipped kitchen, separate make-up & styling room, a comfy lounge area as well as high-speed wifi, and a Bluetooth Soundsystem. Thanks to our many years of experience in photo, film, and video production, we know that the technical conditions and the preparation for the shoot have the highest priority.
Shooting
From a photo shoot to an elaborate video shoot, the possibilities at Neon Island are almost unlimited. Our production company Instant Waves Media offers full-service production and studio fixing in Berlin-Kreuzberg for Berlin and the whole world. In our studio, photo shoots and film shoots become a lasting result that inspires.
Rent a shooting location
From the former shoe factory to the professional film location – our building with its typical old Berlin- Kreuzberg backyards and freight elevators has a very special history and inspires with its very own charm. History and modernity meet here in perfect harmony. At Neon Island you can rent one of the best film locations in Berlin to perfectly implement your ideas and give your film that certain something.
Rent a green screen studio
Renting a green screen is advisable to give stories, interviews or music videos a professional touch. Renting a screen studio also means being able to create consistency in the videos and films. This is very popular in the field of branding. To emphasize logos and the corporate design, it is helpful to rent our green screen studio.
Rent a photo studio
Are you a professional photographer looking for an indoor location for your next shoot and want to rent a photo studio in Berlin? Are you a production agency looking for a location with a very special charm where you feel comfortable and where you can host your clients perfectly? At Neon Island you will find exactly what you are looking for in the heart of Berlin. Our rental photo studio can be changed in many ways, from daylight to Blackbox, the lighting conditions in the space can be adjusted as you need it. Almost anything is possible in the 80 sqm cyclorama of our Berlin rental photo studio. From edgy to commercial, creative to serious, fashion, or still-life product shooting, you can let your creativity run free in our rental photo studio in Berlin-Kreuzberg.
Greenscreen studio
Our Green Screen Studio Berlin offers maximum independence from previous locations for your video shoot. With our green screen TV studio, we can easily continue your previous video series without creative changes. Our Greenscreen Studio Berlin enables the use of a wide variety of backgrounds without any complex scenery construction. Due to the diverse areas of application of our green screen studio and the resulting freedom of design, we enable maximum creative freedom at efficient production costs.
Production studio
Neon Island not only offers a professional rental studio for film and photo production in Berlin-Kreuzberg, but we are also at home in film and video production ourselves. With years-long international experience, we offer a full service with our in-house production agency Instant Waves Media. From the first consultation and conception, production, and realization to distribution, we are your full-service film production company in Berlin.